This article may contain affiliate links. This means that at no extra cost to you, I may earn a commission if you use one of these links to make a purchase. Read the full disclosure.
Railay was one of the places in Southern Thailand that really blew us away with its beauty. Whilst not technically an island, Railay is only accessible by boat due to limestone cliffs preventing any roads leading to this area of Thailand's coast. It has the typical island vibe that you would find in any tropical island nation and the popular beaches of Railay are just incredible.
Railay is famous for several things; beautiful, stunning, postcard-worthy stretches of white, sandy beaches with clear water, limestone cliffs and lush tropical greenery just being one of them. It's well-known for being a 'hippy backpacker paradise', whilst it's not much of a secret these days, it definitely maintains its hippy vibes as it's so laidback. There's also snorkelling, kayaking and rock-climbing because the cliff formation is just so perfect for climbing.
You can easily get to Railay Beach from Ao Nang, which is where we were staying when we visited for the day. The 10-minute longtail boat journey costs 100 Baht per-person each-way, you can buy a ticket from the desk which is on the main beach road (you won't miss it). There is accommodation there, so it's not just limited to daytrippers.
Be prepared to wade through shallow water either side of your journey, the boatmen try to get as close to the shore as they can manage. Clamber onto the boat, convince yourself that it is safe and definitely won't capsize when the large man onboard decides to lean over the edge…
(In our experience, longtail boats are fine for short journeys around the coast, like this one, but longer trips across the sea in changeable weather are not for the faint-hearted!)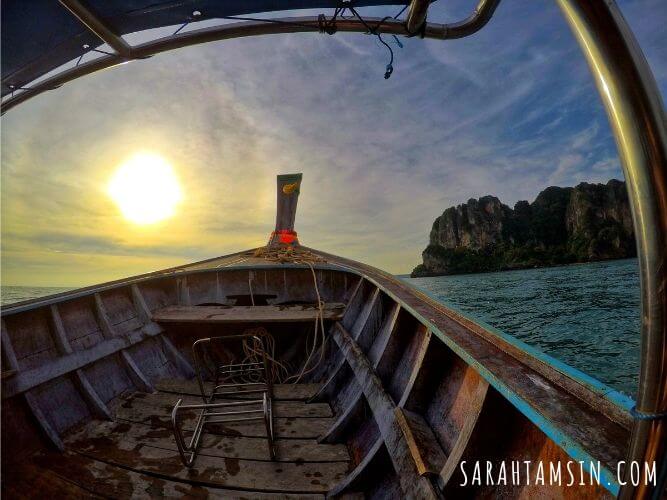 When you arrive in Railay, after skirting around Krabi's dramatic limestone cliffs, you'll be greeted by a beautiful white stretch of sandy beach, plenty of shade from the trees, and a fair amount of other tourists. The number of other people was not overwhelming or too crowded, at least it wasn't when we visited on a sunny day in November – at the very beginning of the 'high season' in this area of Thailand.
The water is as clear as you'd hope it could be, and, despite the other tourists, it had a very relaxed feel to it. It certainly wasn't a packed beach, there was plenty of space for us to sunbathe and enjoy the scenery as soon as we hopped off the boat at West Railay, which is exactly what we did for a few hours before exploring the rest of the area.
---
The Four Main Beaches of Railay
There are four distinct beaches to visit in this area. These four beaches are relatively close to each other. They're not all 'swimming beaches' so to speak, but each beach has its own beautiful views and laidback island feel.
Here is more information about the four beaches in Railay; West Railay, East Railay, Phra Nang Cove, and Ton Sai.
Beach #1 – West Railay
West Railay is the first beach you come across if you're travelling by longtail boat from Ao Nang like we did. This is definitely the longest stretch of beach in the area, which is great for sunbathing and swimming. There are boats arriving and departing frequently, but the beach is wide enough to swim whilst avoiding the boats, which all stop in the same area.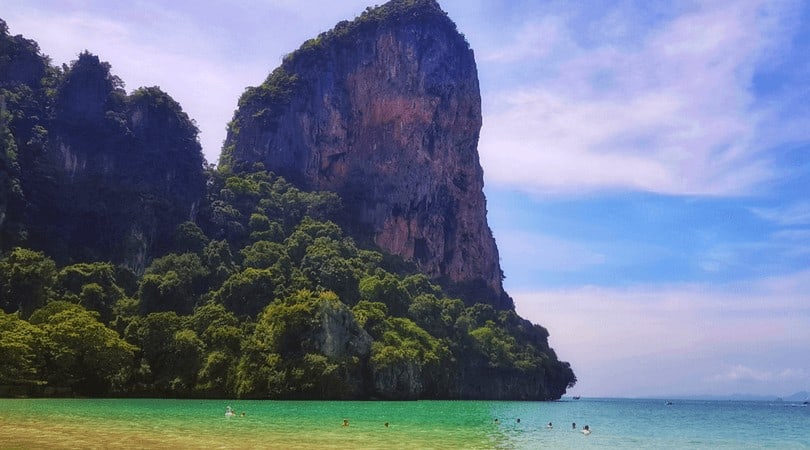 There are also a few beach resorts with pools overlooking the beach, and a short street full of shops which mostly sell rock-climbing gear, you can also arrange rock-climbing at Railay – there are so many different spots for rock-climbing, so if that's your thing then this is definitely the place to go!
Further down the path, the Walking Street continues with a few restaurants and bars. Perhaps this place is so laid-back due to the offerings of the aptly named Skunk Bar, accentuating the island vibe of Railay Beach.
We stopped here for some great food and obligatory petting of the many cats you'll find in Thailand. There was also a monkey throwing poo from the roof of a neighbouring bar, so watch out!
Beach #2 – Phra Nang
After walking along the promenade along Railay East, there's a jungle-lined path that leads you to Phra Nang Beach, the site of the infamous Princess Cave. There will be more monkeys along the path, so hide any food or drink away in your bag or you'll have a difficult job getting past them! I also try not to look at them as that seems to get their attention.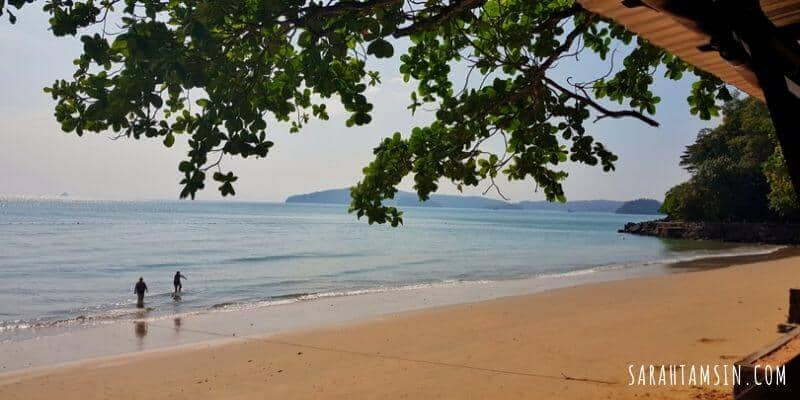 Phra Nang beach was our favourite of the four beaches in Railay. There were a fair amount of people by the time we arrived, but we found space to laze about on the beach. The tide was at the perfect level to wade into the sea underneath the huge cliff face and climb onto the rock to explore the caves.
Phra Nang Caves
There was one particular cave which is what makes Phra Nang Beach very well-known, and this requires no wading to get to. At Phra Nang Beach, you'll find another postcard-worthy scene, a stretch of white sand, clear waters, limestone cliffs, and a cave full of sculptures…
Local people, fishermen and navigators believe and hold faith in the Princess of the Phra Nang Cave that she will preserve and protect their livelihood and fulfil one's wishes. When their wishes are fulfilled, votive offerings would be made at the shrine.

Common gifts are flowers and incense sticks, but usually the spirits of the Goddess are offered a special gift, the lingam, which is carved from wood. The belief of the lingam and holy womb shall create fertility and prosperity to the whole earth and mankind.

Do not place things of worship that re inappropriate. Please honour and respect this sacred sight.

– Sign inside the Phra Nang cave, Had Noppharattara – Muh Koh Phi Phi National Park @ Krabi Province
Iiiiiiiit's a cave full of wooden statues to represent – ahem – see for yourself…
Beach #3 – East Railay
As you follow the path around past the reggae bars, a few other resorts and guesthouses, after a short while you'll come to another picturesque beach. However, you can't swim at East Railay – there are lots of Mangroves and it's very swampy when the tide is out.
East Railay has a few quiet resorts and restaurants along the path that you'll be walking along, and that's what it's great for! Eating, strolling, relaxing and taking photos. The other beaches at Railay are much better for swimming. In fact, Railay East is not suitable for swimming at all, it's the least picturesque of the four beaches here, but still pretty in its own way. When we visited, hundreds of Mangroves were being replanted.
Railay East is also the docking point for boats arriving from Krabi. This dock is favoured by locals compared with the boatmen at Railay West shuttling tourists back-and-forth.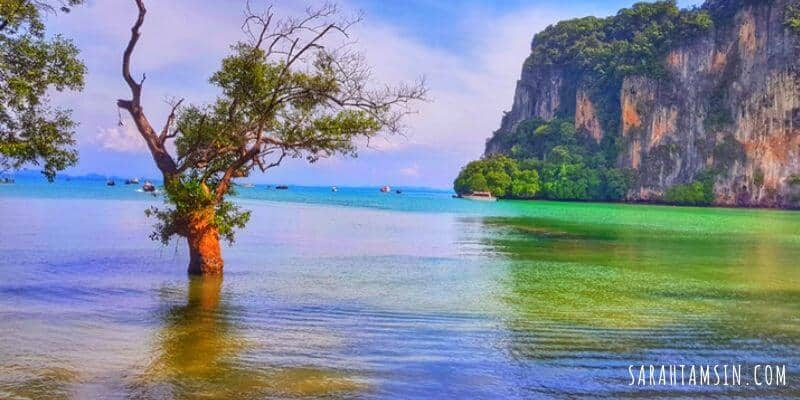 Beach #4 – Ton Sai
Tonsai Beach is technically not part of Railay, it's in a separate bay that's very close by, only accessible by boat or by the sea when the tide goes out. However, the beach is very rocky and can be tricky to walk or swim. It shares its name with another popular beach on another Thai Island: the main beach on Koh Phi Phi is also named Tonsai.
Like all of the other beaches in this area, it has a laid-back attitude, a few small hotels and bars, a dramatic coastline and beautiful views.
Tips for Visiting Railay Beach
Here are some general tips for visiting the beaches of Railay for those of you who are planning a trip to Thailand soon.
If you're visiting for the day from Ao Nang/Krabi, know the correct price first! To get to Railay from Ao Nang, the price is 100 Baht ($2.50) per person each way. You get your ticket from the office on the beachfront, prices are clearly displayed. When you're coming back, simply go to Railay West and listen for the boatmen shouting "Ao Nang!"
Go to the ATM before you arrive in Railay, as there doesn't seem to be one in the area (at least, I didn't see one)
High season is December – April, this is also known as the 'dry' season, but expect to pay higher prices and beat the crowds.
Low season or 'rainy' season is May – November. (We visited Railay Beach in November and the weather was perfect, rainfall was occasional, short and heavy bursts.) Expect it to be less crowded during rainy season and prices may be slightly lower.
Watch out for the monkeys! Seriously. They were throwing poop at people and trying to steal people's food and drink. If you have anything tasty or edible, then pack it deep inside your bag and try to avoid things with noisy, rustling wrappers. Noisy wrappers just attract the monkeys and they can be pretty vicious.
If you're planning to stay in Railay, then book your accommodation in advance, especially during high season. There are only a few small resorts and guest houses, so you might find yourself stuck if you rock up without anything booked. Most of the accommodation is in the low-mid price range. This will give you an idea of how much you can expect to pay for accommodation in Railay:
Things to do in Railay Beach
Here are some ideas for what to do when you're in Railay, there's something for daredevils and beach bums! This list is for things to do in Railay Beach specifically, as in, there are many other tours and trips you can take from nearby towns (Ao Nang, Krabi, Koh Lanta, etc), many of these tours actually stop off at Railay as part of their itinerary.
But, this is only for things to do when you're actually in Railay!
Rock-climbing
This is what Railay is famous for! There are rock-climbing shops, schools and organised tours starting at 800 Baht ($25) and everything is provided.
Explore Phra Nang Caves
Lingums aside, it's a very beautiful beach. The rock formations around the caves are wonderful. Try to spend an entire day there to make the most of the beach and its caves with the changing tide. When the tide is out, you can access more caves with barely any climbing involved.
Laze about on the Beach
There are four beautiful beaches of Railey to choose from, three of these are swimmable. So, there's plenty of choice for all you beach bums out there! If you're swimming, watch out for the boats coming and going. Otherwise, find a quiet spot, lay your towel on the sand, sit back, and enjoy the tropical sunshine!
Chill out at a Reggae Bar
You'll find several reggae bars in the area, all serving food, cocktails, soft drinks and happy cigarettes. Expect to pay 150-300 Baht (£3-6) for a large meal with a drink. Most places serve Thai or Indian food, with a limited selection of western food too.
There is nightlife here too, but it's on a much smaller scale than nearby Ao Nang. Look for posters and fliers advertising small 'jungle parties' if that's your thing, but in my experience, they don't go on very late. If you're not staying in Railay then you'll need to find a way to get back to wherever it is that you're staying. There are boatmen who can take you, but they will definitely charge you extra!
Find the Lagoon (requires climbing)
Railay has a hidden lagoon, but it does require some climbing to reach it. Keep walking past the small Walking Street area, down the only path you can really take… towards Railay East. The place you'll have to climb up is on the left, you'll be able to spot it because there are a few ropes attached to help people.
There's also a viewpoint on this route, be aware though that is can be very slippery if it's rained recently, so wear sensible shoes if you're planning to go up there! It takes about 20 minutes or so, and took me even longer to get down!
Go Snorkelling
If you're bored with the surface world and want to see what's beneath the water, then Railay is a perfect spot. The waters are clear and the entire coastline is home to many coral reefs and diverse marine life. You can either arrange for a boat to take you to a good spot, or just grab your mask and snorkel around the beach. The water is fairly shallow, but the tide changes so don't go out of your depth if you're not a strong swimmer. There are also a number of snorkelling trips available locally too at very affordable prices, which you can book when you get there.
Rent a Kayak
You can rent a kayak for the day for about 500 Baht ($15) and paddle around the course. You could use the kayak as transport from Railay to Ton Sai or vice versa!
---
Visiting Railay Soon?
Are you planning a trip to Thailand soon? You should definitely include Railay in your itinerary; visit for a day or stay for longer, the choice is yours! Make sure you leave a comment to let us know what you got up to!
Pin This Image