Digital Marketing Training for Charities & Small Businesses
Bespoke workshops for groups and 1-2-1 coaching
Invest in your digital skills today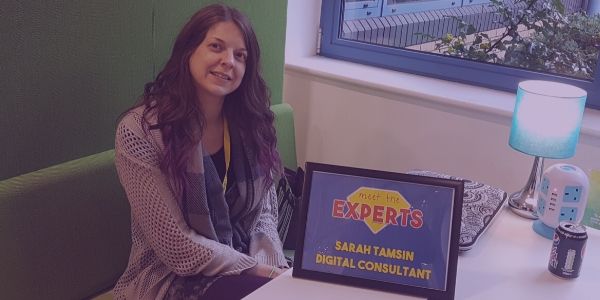 The digital world is moving fast, don't get left behind!
Digital literacy for businesses and charities is so much more than simply being able to operate a desktop computer.
The digital landscape has changed significantly  over the last 10 years and the trend is not going to slow down. Businesses need to embrace innovation and digital processes in order to stay competitive.
Digital skills are in high demand now and will remain so for years to come. I can help your small business or charity improve its levels of digital literacy. I specialise in running half and full-day workshops on digital content, marketing, social media, search engine optimisation and loads more!
Since running my own business and working in a digital marketing role in the voluntary sector for over 8 years, I know exactly what digital challenges you face on a day-to-day basis. Many of these challenges can be overcome by investing in learning and development.
I provide a fully bespoke training service for organisations just like yours! Get in touch today to discuss your business's digital learning needs.
Bespoke training & workshops
A wide variety of different digital topics
Demystify the world of digital with my practical workshops. From customer engagement to digital planning, from WordPress to Google Analytics – I've got you covered!
Custom learning outcomes to meet your business and team's needs
All of the courses and workshops I deliver can be tailored to suit your needs. Perhaps you want a comprehensive overview of a topic, or perhaps you already have some knowledge and want to expand and grow. 
Held in a venue & location of your choice
I hold courses and workshops in and around South Wales. However, I'm able to travel anywhere within the UK and hold online workshops and webinars. 
Variety of different methods to meet different learning styles
A  mix of theory and practical elements. Sessions are full of tips & tricks as well as participatory activities for learners to really get stuck into the subject.
Perfect for groups and individual learning
I'm able to provide 1-2-1 practical training as well as group sessions. I generally run sessions with a maximum of 12 learners per sessions.
Fully insured
I have appropriate Public Liability Insurance and Professional Indemnity policies in place.
Digital Skills Training in South Wales
Expand these sections to see learning outcomes, aims and objectives of each course.
These can all be tailored to suit your current skill level and business objectives.
Introduction to Search Engine Optimisation (SEO)
Demystify SEO, once & for all!
Search Engine Optimisation (SEO) has a reputation for being snake oil and magic tricks. This couldn't be further from the truth.
SEO involves some knowledge of your audience, an understanding of how Google interprets your site and its accompanying data and the rest of it is common sense.
I can put all of the so-called technical jiggery-pokery of SEO into Plain English and make it easy to understand. You'll leave this session armed with all the knowledge you need to improve your search engine performance.
You will learn…
The basics of how search engines work
Up-to-date modern SEO best practices
Techniques to improve on-page, off-page and technical SEO performance
Where to access additional resources
Recommended duration: 1 day
Creating & Sharing Digital Content
Having an active digital presence in 2019 is vital.
This practical course will allow you to explore the best free tools available that you can use to create engaging content on-the-go and with no technical expertise necessary!
You will also learn current best practices for sharing digital content using social media, as well as develop your own mini sharing strategy for your next campaign.
Let's get together and consider different methods to drive traffic to your organisation's website, and meaningfully engage with your target audience.
You will learn…
How to use creative online tools to create compelling content to engage with your audience
The latest trends on social media platforms
How to start developing a content strategy for your organisation
Next event: 14 November 2019, Cardiff
Duration: 1 day
Successful Blogging for Businesses
Blogging can be your key to online success – discover how with this practical workshop!
Gone are the days when blogging is only for the influencers or the over-sharers. Businesses with a blog can attract new customers with a varied bank of content, meaning that more customers find you organically from search engines and social shares.
I have an excellent and proven blogging strategy that works for individuals, businesses and charities. If you want to up your blogging game, this workshop is perfect for you.
You will learn…
How to setup your blog to maximise results
The structure of a winning blog post
Where and how to promote your blog content
Steps to take your blog to the next level
Recommended duration: 0.5 – 1 day
Introduction to WordPress CMS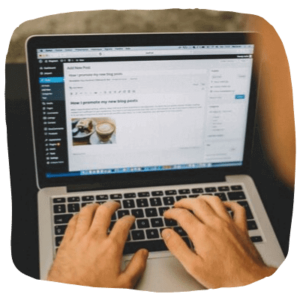 Join the millions of businesses who use WordPress worldwide!
Are you fed up with your tired old website? Are you frsutrated with the technical limitations of website builders like SquareSpace or Wix? Over 30% of websites run on WordPress, you could be one of them.
If you're switching from an old CMS to WordPress, you and your team will need some practical training to keep your site updated. I can provide jargon-free training for you and your team
Or, if you're more experienced with web design in general but new to WordPress, I offer tutorials which are aimed at more advanced learners.
You will learn…
How to create, edit and delete content in WordPress
User profile management and levels of access
Basic security for WordPress websites
How to manage user-generated content and other interactive functionality on your website
Or, for more advanced users…
How to make theme customisations using CSS
Integrations & APIs (MailChimp, EventBrite, Amazon, Google AdSense, Google Maps and more)
Child Theme Configuration: an essential step in custom WordPress builds
Technical troubleshooting and further resources
Recommended duration: 1-3 days
Pinterest Marketing 101
Pinterest is a valuable marketing tool to drive traffic and sales to your website. It's so much more than nail art and cake recipes!
You'll probably consider Pinterest as another form of social media. Whilst it does have some social elements, it is primarily a search engine.
Pinterest uses a complex algorithm to display search results, that means that's room for optimisation, once you understand how the platform works.
Pinterest has the potential to refer a lot of traffic to your website. For most websites, it is the second largest referrer of traffic after Google. This workshop will show you how to leverage Pinterest to your advantage.
You will learn…
What your Pinterest Business Profile should contain

How Pinterest search works
How to use Pinterest to drive traffic to your website
Best practices for creating eye-catching pin designs on Pinterest
Next steps to take your Pinterest marketing to the next level
Recommended duration: 0.5 – 1 day
Get Started with Affiliate Marketing
Love creating content? Learn how to monetise your existing blog or start a new affiliate marketing project from scratch!
I'm extremely passionate about affiliate marketing, it's something I learned from scratch as there were very few resources available when I was getting started.
Affiliate marketing is the act of promoting products to your audience via a blog, YouTube channel or social media profile. When someone clicks on your unique affiliate link and makes a purchase, you earn a commission.
It's not as easy as throwing affiliate links into your existing high-performing content though! You need to be strategic – I can show you how.
This extremely valuable learning opportunity contains everything I've learned for passive income success, the blueprint I use for affiliate websites.
You will learn…
The basics of affiliate marketing
How to start an affiliate "niche website" from scratch
An introduction to search intent and its relationship with the buying cycle
Where to find the best affiliate programs to join
You will also learn all the mistakes I've made in the past and how to avoid making them yourself!
Recommended duration: 0.5 – 1 day
Social Media for Charities
The social media landscape has changed a lot in recent years, making it harder for charities and non-profit organisations to be successful on social media.
Getting organic reach on Facebook used to be easy, right?! Sure, in 2011, it was easy! Now, these giant social platforms want you to pay to run ad campaigns instead.
However, it's still possible to get organic reach and traffic from Facebook and Twitter, but it requires careful planning and a strategic approach. There's also Instagram, Snapchat and TikTok to think about!
This course is specifically aimed at charities to help them get their voice heard online.
You will learn…
How social media works in the current day
What type of content performs well on social media at the moment
Where to access insights about your audience and their online behaviour
How to craft unique and engaging posts for your various social platforms
How to get started with your charity's social media strategy
Best practices for integrating your social media presence with online fundraising platforms (JustGiving, Facebook Donate, etc)
Recommended duration: 0.5 – 1 day
Understanding & Interpreting Google Analytics
This course can demystify Google Analytics and help you make the most of its reporting features.
Google Analytics is a wonderful tool to give you insight into how people interact with your website. But, it's very confusing for beginners!
If you don't know your average session duration from your bounce rate then this course is for you!
You will learn…
What the different statistics, numbers and jargon means in Google Analytics
How to make the most of the reports by linking with Search Console Data to see search queries
The different views, dashboards and reports available in Google Analytics
Goal setting, campaign and conversion tracking
How to manage access, privacy settings and user profiles
Getting started with URL parameters
Recommended duration: 0.5 – 1 day
About Me
I am a digital consultant, content creator and website designer with extensive experience working alongside charities, freelancers, small businesses and Local Government.
I've spent over 15 years working on digital projects. During this time, I've also built my own network of successful income-generating websites and blogs from scratch using Search Engine Optimisation (SEO), ecommerce and affiliate marketing.
I'm here to share my expertise with you! Get in touch today to find out how I can help your small business thrive online and make the most of what digital tools and processes have to offer.
"I was lucky enough to attend an event where Sarah was part of the expert panel. Due to the advice given by Sarah I've been able to increase my sites performance dramatically and also learned new ways to get traffic to the site.
I honestly cannot thank Sarah enough for the advice she has given me."
Emma, Easterkins Ltd
"I have worked with Sarah on a number of collaborative projects on citizen engagement and participation, with particular reference to effective digital engagement.
She has exceptional skills in training and problem solving and is highly effective in engaging with a diverse groups and individuals in a respectful and participatory way."
Clover, Good Practice Wales
"Sarah is incredibly knowledgeable and enthusiastic about creating engaging online content. Her insights have been invaluable!"
Gareth
"The amount of traffic to our website has increased significantly since working with Sarah. We are now running more courses than ever and rarely have to cancel one!"
Philippa, National Welsh Charity
The Process for Arranging Training
Learning Needs Analysis
Depending on the type of training event, this usually takes 30-45 minutes and is free of charge.
During this meeting, we will discuss your current skill level and learning requirements.
Agree Learning Outcomes
I'll draft a course outline within 3 working days of our initial meeting. 
The next step is to agree the course outline, learning outcomes and date. Once this is mutually agreed, you can go ahead and arrange a venue for the session! 
Reach Your Learning Goals
I'm always reachable during business hours, so you can get hold of me with any queries you have in the run up to  the course.
Keep doing what you do best and I'll do what I do best!
Taster Session (1.5 hours)
Perfect for introducing yourself to a topic. You'll leave a taster session armed with the basic knowledge and resources in order to get started.
More Details
Number of participants: 8-12
Venue hire, catering and travel expenses not included.
Half-Day Workshop (3 hours)
Half-day workshops are a great way to familiarise yourself with a topic.
More Details
Number of participants: 8-12
Venue hire, catering and travel expenses not included.
Full-day Workshop (6.5 hours)
A full-day of learning!
More Details
Number of participants: 8-12
Venue hire, catering and travel expenses not included.
1-2-1 Hourly Coaching
For specific individual advice and learning outcomes to help you reach your online business goals.
More Details
Virtual meetings can take place on a platform of your choice. 
Get in touch using the form below