This article may contain affiliate links. This means that at no extra cost to you, I may earn a commission if you use one of these links to make a purchase. Read the full disclosure.
For the past few weeks, I've been using Visme. I was provided with a complimentary premium account with Visme (a free version is also available) to use its full range of features and give an open and honest review on the Visme user experience and how it compares to other tools on the market. This article contains a detailed review of Visme, to help you decide whether it's right for you and your business.
As a digital content creator, I spend a lot of time finding/editing images and graphics to use on my blogs and social media. I create content for my own network of blogs and for clients which often includes web graphics, infographics, video thumbnails and presentations. I also run training and workshops, so I also frequently need to prepare slides, handouts and learning resources. Visme promises to make this process much faster and easier.
But, there are so many other tools already available. Bloggers and businesses all over the world are already using Canva, PiktoChart, Adobe Spark and even PowerPoint to create graphics for their websites and social media profiles.
If you've worked with me, you'll know that I'm a very big fan and advocate of Canva. In fact, I use it nearly every day. I managed to get away using Canva's free plan for years before I finally caved in and upgraded to their Pro plan, which I'll admit, I can't live without.
So, when I was approached by Visme about their new tool, I was intrigued about what makes Visme different to the other tools out there. I did some further research into Visme and its features to find out exactly how it differs from other tools like Canva, PiktoChart and PowerPoint.
You will learn
What Visme is and what it's used for
How to get started creating infographics, presentations and web graphics
What's different about Visme when compared to other tools
A summary of its main features
The pros and cons of using Visme
What is Visme?
Visme is an extremely versatile, powerful tool for creating visual content. You can use it to create:
Social media graphics
Presentation slides
Infographics
Graphs, charts and data
Animated graphics
Plus loads more
It comes with thousands of pre-made templates and elements, which can be completely customised. There's also thousands of free images, graphics, icons and fonts for you to use.
It has been in development for over 5 years and the latest version release is based on reviews of 1.2 million users around the world. Thousands of research and development hours have gone into creating this free online tool. Yes – Visme is completely free for all users. There are paid plans available for businesses who need the extra storage and limitless design features.
It's designed for both personal and professional use. So, you could use it to create greeting cards, party invitations and even memes. Or, use it to create beautifully captivating content to promote your business.
How it Works… In a Nutshell
This video explains and demonstrates what Visme does in a better way than words can:
On first impressions and after using Visme for a good few hours, it is incredibly simple, easy and intuitive to use. It's a simple as drag, drop, click, adjust, style and go! 
It has some more advanced editing and customisation features, such as layers, transparency, animations and granular styling of elements. If this feels a bit overwhelming, Visme have produced dozens of helpful tutorials and videos to help you get started.
Visme Vs. Canva – What's the difference?
On the surface, both tools are very similar and you can achieve similar results using each. They're both drag & drop web-based graphics editors that let you create a wide variety of graphics suitable for online and offline use.
Both tools contain:
Free and paid membership options
Quick and easy graphic creation
A library of free stock images
Charts and graphs
Graphics, icons and illustrations (cutouts with transparent backgrounds)
Pre-made customisable templates of various different sizes
Photo collages
A wide library of different fonts
The ability to upload your own images and graphics
The ability to download your designs in different file formats
Animated graphics
What Visme does that Canva doesn't
Add video and audio to your designs
All images are included with premium plans – no extra $1 charges for certain graphics
Embed third-party content (YouTube, Social Media posts, maps, quizzes, gifs)
Password protected designs and projects
Record voice-over and add background music to presentations
Apply a colour scheme to an entire project with one click
Using Visme
If you've used Canva or any other design software, then Visme will look instantly familiar. Yet, it's intuitive enough to begin using without any experience. When you first create a new design of any size, this is what you'll see:
Here is a closer look at the menu area, for you get a better idea of what's available: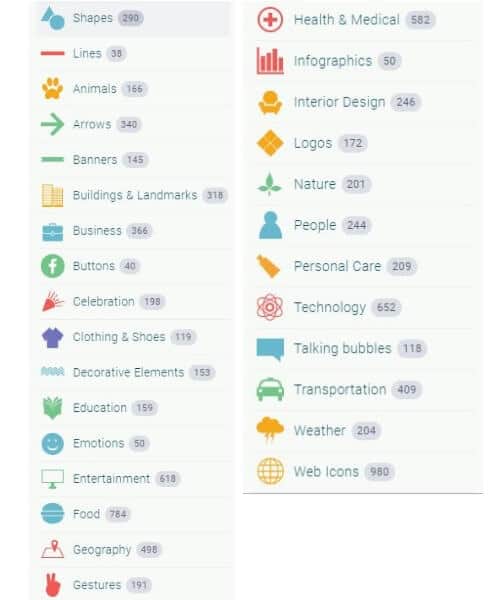 Visme also has a right-click menu when right-clicking on elements within the design. The standard keyboard shortcuts also work, and yes, you can copy & paste across tabs and different designs too.
Using Animations for Dynamic, Engaging Visual Content
It's very easy to animate any element of a design by clicking on it and using the animate button, the options are self-explanatory.
Here's a few animations I created using Visme.
Note: These animated graphics cannot be downloaded as gifs. You can download as html5 to preserve animations, otherwise they're embedded and served from Visme's servers. This does mean that if you need to edit your design, you only need to do so once and it will update everywhere that you've embedded it. You could always download the HTML5 directory of files and upload it your website to embed.
However, I had hoped for the option to export animated files as gifs to use on social media, which is a shame! Perhaps Visme will bring this feature in soon…
Here's a pretty basic animated design I created with Visme. When viewing the design live, the timings are a bit different on the animation exit paths, it looks absolutely fine in the preview so I can't figure this out!
…and here are some animated dog vectors… just because.
Only the entrance and exit path can be animated. It's worth noting that the elements themselves cannot be animated to move within the design, only the way they enter and exit the design can be animated. Again, I hope Visme will add this feature soon!
Creating Infographics with Visme
When it comes to creating infographics, what make Visme unique is the ability to 'build' your infographic using 'blocks'. That means that you don't have to pre-determine the size of your infographic, having to resize it if you need to make it longer. You can just keep adding blocks to the bottom and make it as long as you need, so it's great for creating those 'skyscraper' style infographics that take up enter pages on your website.
Visme has a literal 'building block' style library of infographic elements, so you can build data-rich infographics row by row. This is a handy feature, the blocks just seem to naturally fit together and you can apply a colour scheme with one click (without having to re-colour all the individual elements)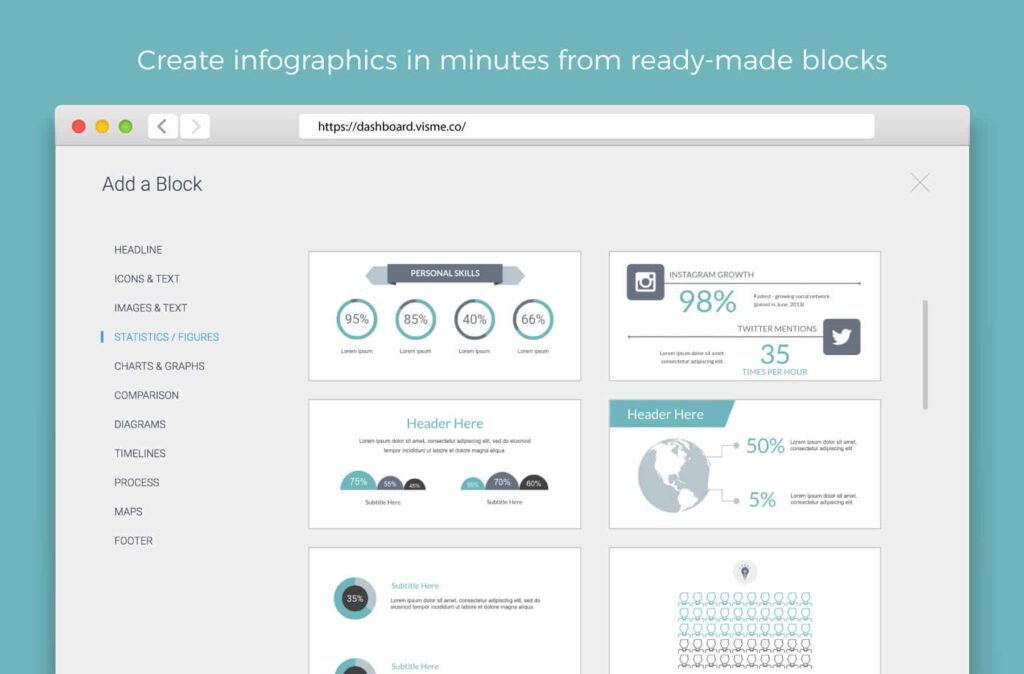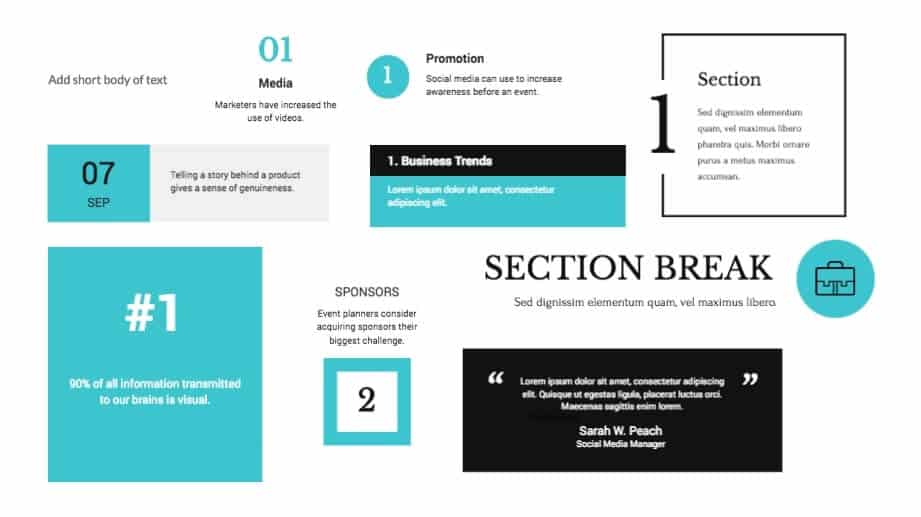 All of these elements can be dragged and dropped into place, then re-coloured and re-sized using the easy to use controls.
Creating Presentations with Visme
This is where Visme really shines over Canva.
In the past, I've created entire presentations and large slide decks using Canva, and they look great. However, I make the slides in Canva, but I have to switch over to PowerPoint to add in YouTube videos, gifs and other interactive, dynamic content. This extra step does take extra time, especially when preparing for training courses, workshops and public talks.
Finishing a 56-slide design in Canva feels like an achievement, but the added time spent going in to PowerPoint and adding in all the YouTube clips is a pain.
With Visme, you can add all of this content directly in your browser without having to export the entire design first. This is a real time-saver and definitely a deal-breaker for creating presentations. You can also export your designs directly to .pptx format, if you use PowerPoint at work then it's really simple to import your designs straight from Visme.
Which brings me to…
Sharing & Exporting your designs
I've already mentioned that animated designs need to be embedded or downloaded as HTML5 (comprising of a zip file with all the JavaScript files and images). However, static designs can be downloaded in the standard formats:
---
Summary
Visme is an incredibly useful tool to have in your content creation toolbox and I'm quite likely to continue using it. However, I will be keeping my Canva Pro subscription too, despite the interfaces and features being quite similar.
I'll certainly be using Visme for presentations and infographics from now on, but I'll continue using Canva for web graphics due to the fact that I can download animated GIFs and MP4s. I'm still hoping that Visme will add those options in the future.
What makes Visme stand out from the other tools available?
The main features of Visme that stand out are:
Easy, intuitive interface that's suitable for beginner and more advanced creators
Animating the entrance and exit of elements in your web browser
Adding background music & voiceover
Password protected designs
Lead-generation (capturing email addresses with lead magnets)
Everything is included in the monthly free for the paid plans – no extra charges for stock images like Canva
How much does it cost?
The good news is, Visme is free! However, the free membership does have limitations, as expected.
Here is what you get with each plan, there are different pricing structures for businesses and schools. Click here to compare all of the different Visme plans.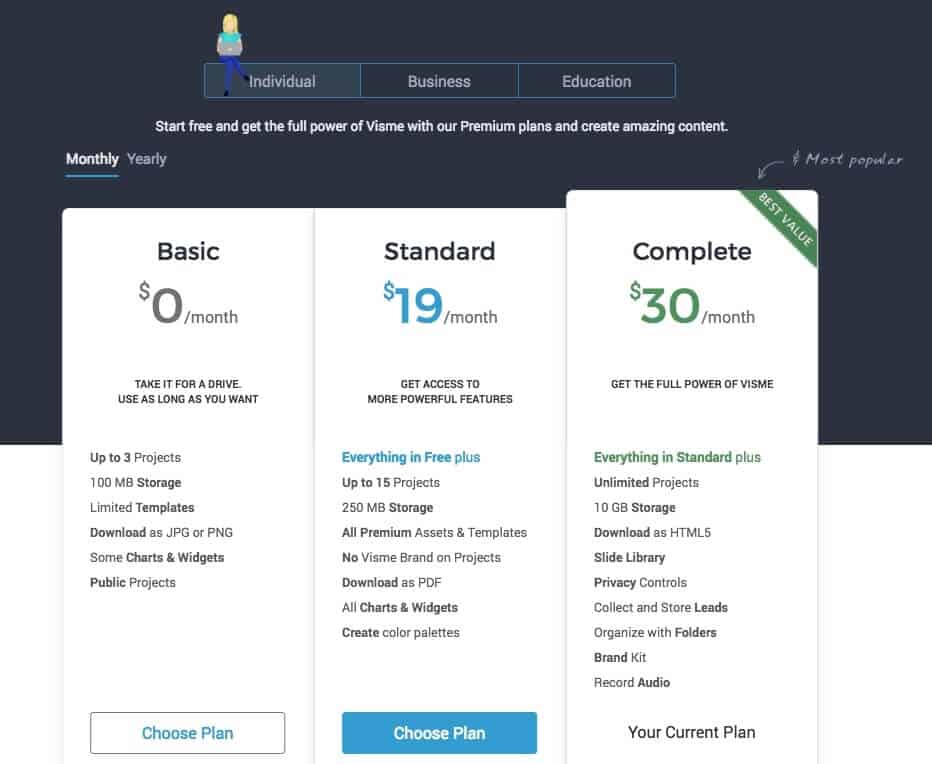 The paid plans are slightly pricier than Canva, so if you're getting started you're probably going to be choosing either or. In which case, you need to make your mind up about what type of content you'll be creating.
For presentations and infographics, Visme is definitely the winner. But for day-to-day web graphics, I will personally stick to Canva because it's what I'm used to. But, Visme is just as capable of creating high quality web graphics, both tools will have all the features you need so there's no clear winner when it comes to web graphics for Social Media, etc.
It really does come down to the nature of your content and personal preference ? Some bloggers and content creators just can't get on with Canva, so perhaps Visme could be the tool for you? Give it a try!
---
Pin this Review
Use the image below to save this review to Pinterest, the Pin is created using Visme, of course!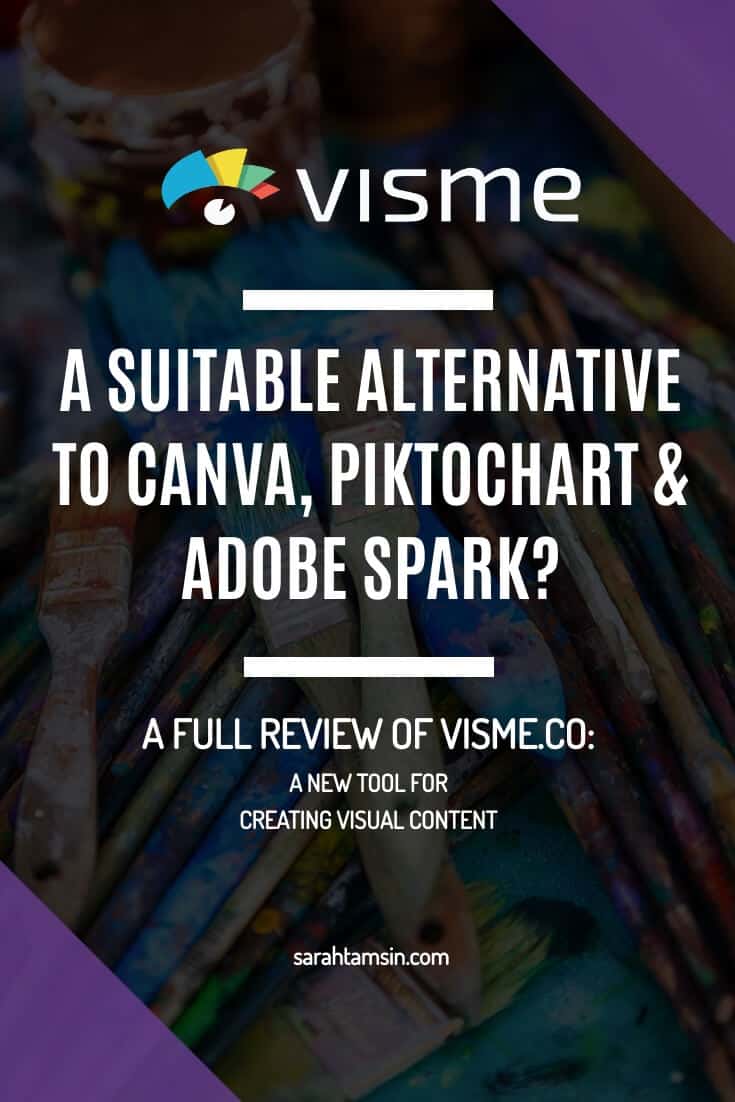 Visme.co
Pros
Extremely user-friendly with easy to use interface
Thousands of high quality templates and photos with professional designs
Customisable elements, icons and fonts with endless creative possibilities
The block editor for infographics is highly innovative and a real time-saver for creators
Cons
Cannot export designs as GIFs or MP4s at the moment
The free version is fairly limiting, you have to pay to really make use of its power
The price is quite high when compared to alternatives