This article may contain affiliate links. This means that at no extra cost to you, I may earn a commission if you use one of these links to make a purchase. Read the full disclosure.
In August 2019, I signed up to attend the 5-9 Club in Caerphilly; an 8-week course held once a week in the evenings for new business owners to learn new skills, network with like-minded people and gain support. This article will give you a better idea of what to expect from these sessions and help you decide if it's right for you. This review contains my own personal experiences and all the opinions in this article are my own.
I'm now a member of Welsh ICE, I joined the community at the beginning of October 2019 shortly after the end of the 5-9 Club in Caerphilly. I quit my job last month, so when I saw a Facebook advert for a series of evening workshops for new business owners, I was so there.
Seriously, Facebook is freaky with its targeting. I have turned all third-party tracking cookies off on my devices. I'm guessing that Facebook scanned the contents of my email and saw my letter of resignation which stated I would be working on my business full time – I don't know.
Either that, or the social media genius behind the ad was just that good – I almost never click on Facebook ads! ?
I attended the 5-9 Club, organised by Welsh ICE in Caerphilly from 7 August – 25 September 2019 and this article is about my own experience, what I found most useful and which elements weren't as helpful. This review should give you a good idea as to what to expect if you're considering signing up for the next 5-9 Club in South Wales.
I wasn't able to attend every single session, I had to miss a few due to work and other commitments, so I obviously can't comment on the sessions that I missed! However, I'll do my best to give you an overview of the 5-9 Club in general. If there's anything that's not clear, just leave a comment below and I'll do my best to answer any questions!
Important Note
Since writing this review, there's been the small matter of a Global Pandemic which has, of course, changed how courses are delivered.
The next 5-9 Club will be held online, so you can attend from the comfort of your own home!
What is the 5-9 Club?
The 5-9 Club involves 8 sessions, held once per week during the evening, like the name suggests, the sessions start at 5pm and finish at 9pm. It's for anyone who has either recently started a new business or has an idea that they're hoping to turn into a business.
The whole idea of these sessions behind held after hours during the evening means that they're much more accessible to people who have jobs and other responsibilities during the day time. One of the biggest barriers to starting a new business is being able to dedicate the time to it. The 5-9 Club allows you to devote time to your business idea regularly for 8 weeks, giving you a business-focussed mindset, even if you do have a full-time job.
Each week has a different topic with speakers and workshops. All of the speakers and trainers have first-hand experience with growing their own businesses and have lots of expertise their fields.
There's also food provided and plenty of opportunity for networking with the other participants.
During the 8th and final session, there's a pitch evening where every participant has the opportunity to 'pitch' or talk about their business idea to their fellow 5-9ers. The pitch is optional, you're not forced to do it, but everyone is encouraged to pitch for the sake of experience and putting your idea out there.
Who goes to the 5-9 Club?
Anyone with a business idea in South Wales! There was such a variety of people in the Caerphilly 5-9 Club cohort. I came from a charity, web design and ICT background, but I met teachers, dog walkers and artists, as well as other digital/web-related business owners working in the same field as me.
There are no other pre-requisites, it doesn't matter if you're a sole trader, a Limited Company, or neither (yet). Even if you're unsure about your business idea, the 5-9 Club sessions can help you focus your mind and niche-down to find something that you can become passionate about.
It doesn't matter whether you have lots of experience in business or none at all. Even if you've managed businesses in the past, there's always more to learn and more people to meet.
There were approximately 14-22 people on any of the sessions that I attended, attendance did vary from week-to-week, which is to be expected. During the first few weeks, every seat in the room was full and it did thin out a little bit during the middle of the programme. There was certainly a 'core crowd' who were able to attend most of the sessions – which meant that we build a strong rapport as the weeks went on.
Where are the sessions held?
The sessions I attended were held at Welsh ICE's office in Caerphilly Business Park. However, they run sessions all over the South Wales valleys, including one that's just finished in Treorchy and I know there was a previous cohort held in Church Village. All of the 5-9 Club sessions are held in and around the South Wales valleys because there isn't much in the way of business support available to new businesses across the valleys, especially compared to Cardiff.
Welsh ICE are planning to hold future 5-9 cohorts across Rhondda in early 2020.
How much does it cost?
There's a one-off £20+VAT commitment fee to pay. You can pay this in-person at one of the sessions or ask for an invoice.
What's the format of the programme?
Each session starts at 6pm, but you can anytime between 5-6pm for networking or to use the facilities at Welsh ICE. There's a break at about 7:30pm with hot food served from the on-site caterers (Calon Catering).  The sessions are very relaxed and informal, there's plenty of time to ask specific questions and have discussions with your fellow 5-9ers.
You're also allowed to borrow certain books and use the facilities at Welsh ICE while you're part of the 5-9 Club (to be arranged in advance as you'll need a temporary pass). This includes use of the co-working spaces, WiFi, cafe and meeting booths. Try your best to work from the co-lab for at least a few hours as it gives you the chance to meet and greet the longer-term members of Welsh ICE, learn about their businesses and what other support is available.
Here's what you can expect at each weekly evening session (note – I was not able to attend all of these)
Week 1 – Idea Generation
You have a business idea! Congratulations, you're an entrepreneur now! But how do you know if your idea is viable? Is it too competitive? Not competitive enough? Anyone can generate ideas, but this first session will help you see the difference between a good idea and a brilliant idea. As it's the first week, you'll also meet everyone and learn more about the format of the 5-9 Club sessions.
Week 2 – Know your customers
One of the most important parts of running a successful business is knowing who your customers are. Actually, it goes further than just knowing them, you need to truly understand your customers and the challenges they face in order to serve them well. This session outlines exactly how to define your customer and introduces you to some simple sales techniques that can lead to success.
Week 3 – Branding and marketing
This session covers all you need to know about creating a marketing strategy for your business and how to brand yourself to align with your customers and reflect the ethos of your business. You will learn about digital and non-digital marketing techniques from Lunax Digital, as well as design principles from an award winning designer.
Week 4 – Social Media and websites
Everyone uses Social Media and surfs the web, but how much do you know about using it strategically to promote yourself and/or sell products? This week's session will help you make the most of different Social Media platforms and discover the methods that could work well for your business.
Week 5 – Legal stuff and finance
The scary stuff! This week covers the legal and financial aspects of running a business. If you don't know anything about business banking, insurance, capital investment or funding options then this session is essential. I wasn't actually able to make this one, which I was gutted about, so I'm hoping to catch up during a future 5-9 Club – maybe I'll see you there!
Week 6 – Getting Organised
This session is run by a highly experienced Virtual Assistant (Hello My PA) who has some extreme organisation skills! Every business owner needs to plan, set goals and write lists, but it's easy to get overwhelmed by everything. During this week you'll learn how to stay organised and plan your own workload.
Week 7 – Business models and preparing to pitch
I found this especially useful because I'd never formally thought about a business model before. This session covers the different types of business models and how to define yours. You'll also learn some pitching and presentation techniques that will help you prepare for the 8th and final week.
Week 8 – Presentation evening
This is your opportunity to formally pitch and share your business idea with everyone else from your course, as well as a few extra guests. The pitch is option but it's high recommended that you attend, if you're serious about your business, you're going to have to talk to people about it! Use this as an opportunity to practice your pitching for the future!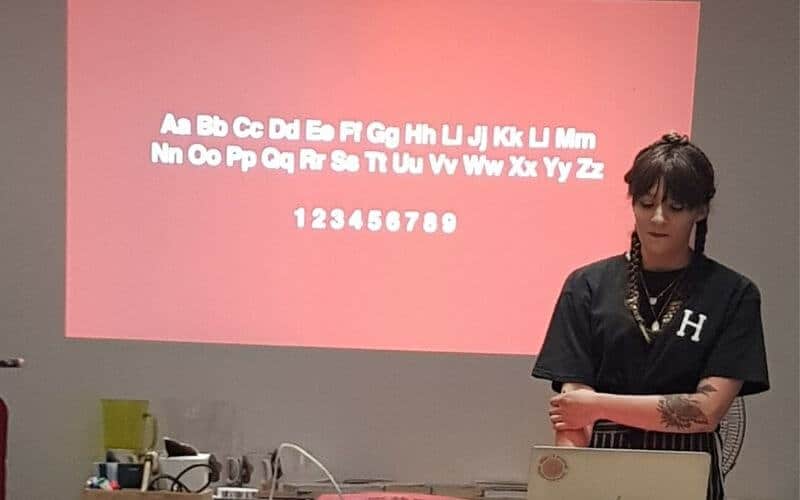 What Happens when it's over?
When the 5-9 Club has finished, you can still stay involved in the community as a member of the alumni.
As a 5-9er, you're allowed to continue attending further workshops at Welsh ICE called GRIT After Hours sessions free of charge, these are on a range of topics from mobile phone photography to pricing your services.
You can also stay in touch with your fellow 5-9ers via a WhatsApp group or by joining the Welsh ICE Facebook Group. There's absolutely no obligation to attend additional sessions or continue using any further services at Welsh ICE, but I've personally carried on my involvement with the community and I recommend that you do too.
You have the option to join Welsh ICE with their various membership packages, including the funded spaces with the ICE50 programme, which is how I became a member. There's absolutely no pressure to join if you don't want to, you can enjoy the benefits of the 5-9 Club with no commitment. However, if you're like me, you'll see the value in continued involvement with Welsh ICE, as there's a lot of benefits for new and established businesses.
So, Is the 5-9 Club Worth it?
I think it's worth it as I've found it so valuable. You get…
8 separate workshops delivered by experts in their fields, all with experience of starting their own businesses
The opportunity to discuss your business idea with relevant experts
Books to borrow from the library which are otherwise expensive to buy
The chance to make use of Welsh ICE's co-working hub
Networking with other business owners
Ongoing community support after the sessions have finished
Of course it is worth giving up a few evenings and spending £24 if you have a business idea and you've given it a bit more than a fleeting thought. It's actually very challenging to start a business if you're in full-time employment, I mean – where do you even start!?
Many people come from a family of business owners. I don't – all of my family have public sector jobs and I had absolutely no idea about different business models or how to manage my finances. So, it's incredibly useful to attend an expertly delivered workshop on these topics – it's just invaluable.
Some of the topics, such as website design and digital marketing; I already had quite a lot of knowledge in these areas, but I still found it useful to attend these. You can never know too much about a topic and it's certainly worthwhile to participate in sessions that you already have some knowledge in. Topics like digital marketing have trends which change with time, so it's worth refreshing your knowledge and possibly learning something new. The sessions are informal enough so you'll be able to contribute to discussions. I did this quite a lot and was even awarded the 'Knowledge Sharer' award!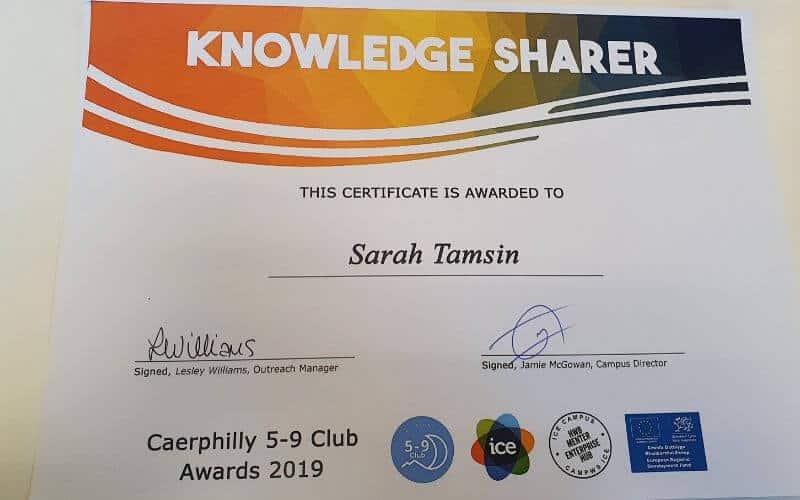 Are there any negatives?
I attended the sessions in Caerphilly, I live about 6 miles away and don't have a car – I rely on public transport. The venue in Caerphilly is about 10-minutes walking distance from Caerphilly bus and train station. This was a challenge for me, especially at the start because I had a full-time job in Tylorstown, Rhondda. It took almost 2 hours to travel to the venue on the bus (Stagecoach 132/120 ftw). In fact, I had to miss a session because a bus was cancelled.
Also, once the sessions finished at 9pm, there was the additional challenge of waiting for an infrequent night-time bus that took the long route home. Fortunately I only had to do this once because, you know, people are nice and offered lifts if they were going my way.
This isn't necessarily Welsh ICE's fault – but the location for me was challenging to attend. Of course, this isn't an issue if you drive to the sessions, consider sharing the car though as it's not good for 20+ people to make individual journeys. Public transport isn't great in this area anyway, so anyone who is reliant on it may struggle.
Future 5-9 Club events will be held in different locations, so hopefully it will be convenient for you to attend!
5-9 Club
Overall impression
10.0/10
Learning opportunities
10.0/10
Networking opportunities
10.0/10
Pros
Friendly workshops delivered by experts in their field
Everything you need to know about starting a business or becoming a sole trader in Wales
Being able to attend these sessions during the evening is useful for those with full-time day jobs
The opportunity to network with other start-up businesses in the same position as you
Cons
Course locations may be difficult to get to on public transport