This article may contain affiliate links. This means that at no extra cost to you, I may earn a commission if you use one of these links to make a purchase. Read the full disclosure.
I caught the train from Cairo to Luxor. The one that "they" said tourists couldn't travel on. I, like many others was told that it was simply too dangerous and seemingly impossible for a non-Egyptian to buy a ticket. It turns out, that tourists travelling on this particular train is not impossible at all, as I just did It!
This blog post will talk about my personal experience catching the train from Cairo – Luxor – Aswan that is notoriously known for not being very friendly for tourists.
You will also learn:
How to buy train tickets for this route (Cairo – Luxor – Aswan)
Alternative ways to travel between Cairo and Luxor
The pros and cons of travelling by train in Egypt
Safety tips for travelling on Egyptian trains
When I was planning my trip to Egypt, I was adamant on catching the train. I was desperate to travel by train in South East Asia for a long journey but didn't end up doing so.
During my research, every single website, blog and forum post I came across said that tourists had difficulty buying tickets for this train.
"It's for locals only."
"The ticket office won't sell you a ticket."
"You have to pay for the overnight tourist train."
But, amongst these disheartening tales, there was a glimmer of hope. The Man in Seat 61 has a great online resource for international train travel and I happened to stumble across his page. His website is the ultimate place for information on travelling the world by train.
Turns out, it's perfectly OK for tourists to travel between Cairo – Luxor – Aswan on this "local-only" train, and here is how you can do it:
How to Buy a Ticket for the Cairo – Luxor Train as a Tourist
As I've already mentioned, trying to buy your own ticket yourself is not going to work, and I didn't even try. There are countless blog posts and YouTube videos where tourists have failed. This leg of my Egypt trip was so Ill-researched that I knew it wasn't worth the effort queuing at the ticket office only to be told no.
There are several ways to buy a ticket:
Ask an Egyptian to buy your ticket at the station before boarding the train. Find a trustworthy local from your hotel or hostel to purchase your ticket. Offer them a small tip or 'baksheesh' in return for helping you.
2. Buy your own ticket from a ticket machine. I tried this at Ramses Station with my friend who tried to buy her ticket this way. Let's just say that those particular machines are in need of serious maintenance.
3. Board the train without a ticket and buy it on-board. This is what my ticket-less friend ended up doing, which was no problem except her ticket didn't have a seat number, where as mine did.
4. Buy your tickets online. This is what I did. It was a fairly simple process, but you have to create an account with a login and password. my UK debit card was accepted and I printed my tickets.
The cost from Cairo to Luxor was £202LE (approx. £8 / $10) per person for a First Class ticket. The Second Class tickets would have probably been slightly less, but I don't know the exact price.
The journey time was about 10-10.5 hours, leaving Cairo at 8am and arriving in Luxor at around 6pm. If you're travelling onto Aswan, then it's about an extra 1.5 hours, making it 12 hours in total. Either way, it's a long time, so get yourself comfortable for your train journey along the Nile.
---
About Ramses Station in Cairo
Ok, so going through Ramses Station in Cairo is, in itself, an experience.
If you're unfamiliar with the station, aim to arrive with plenty of time as the station is very large and busy. Noticeboards flicker between Arabic and English, there are people everywhere and a doe-eyed, pale-skinned tourist will surely attract attention.
It's very useful to know that:
The train departs from Platform 8. Enter the station, go through security (x ray and metal detectors, like an airport) and then turn left towards platform 8.
Ramses Station in Cairo is the first stop on the route, the train will be standing at the platform at least an hour before scheduled departure.
If you've bought your ticket in advance, you will have a carriage and seat number on your ticket that you must stick to.
You do not need a ticket to get to the platform. At no point did anyone check my tickets until I was well settled into my journey.
---
About the Journey on the Train from Cairo to Luxor
I had tickets for first class with air conditioning. The seats are laid out 3 per row, in a single-double configuration, so the aisle was between the single seat and the double seats. They are very wide, fully-reclining and had plenty of leg room. There was also a luggage storage rack above the seats and curtains to draw across the Windows.
There are two toilets in between the carriages. The area between the carriages was also the unofficial/official smoking area, where groups of Arabic men gathered. They stood next to the train's door, wide open of course, using the tracks below as an ashtray.
The carriage itself was perfectly clean and comfortable. Train attendants kept the carriage free from litter and freshened-up the toilets throughout the long jmyney.
All of the first and second class carriages are fully air-conditioned, necessary for Egypt's climate but I visited in February, when outside temperatures are reasonable!
Food on the Train
This is a hell of a long journey! It takes between 10-11 hours, so food is served on-board for an extra cost.
At around 1pm, a man with a trolley came clattering down the aisle. I can't remember exactly what I paid for a vegetarian lunch, but I remember it being around £80LE (£3.20) for some flat bread, feta cheese, a yogurt, some dates and a small chocolate bar. It also came with a small bottle of water and a tiny carton of juice. It's not a bad deal, but you'll probably want to bring some bottled water and snacks with you for the journey, rather than relying on the questionable train food!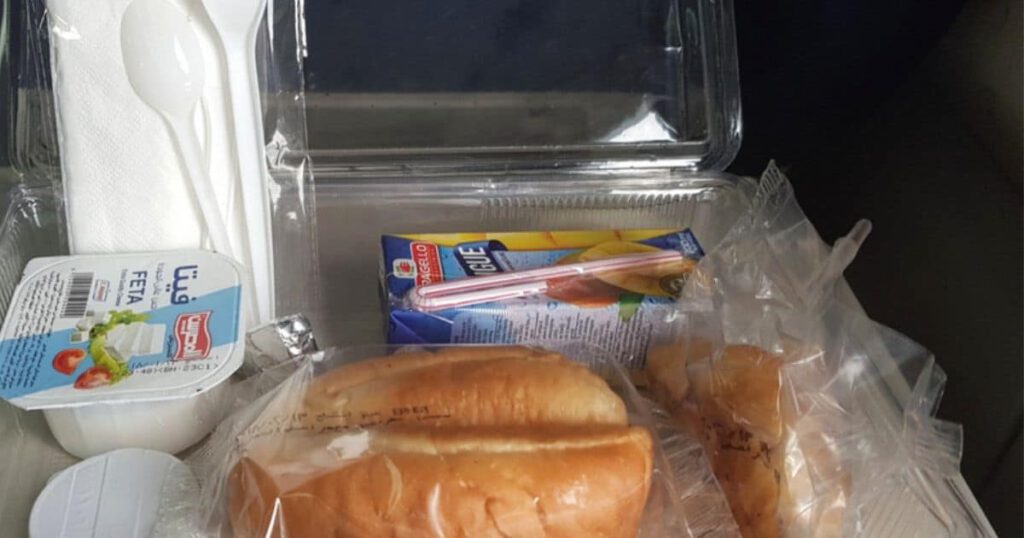 Other Passengers on the Train
I sat in first-class, with a mixture of families, students, and businessmen. I experienced absolutely no hassle whatsoever from fellow travellers inside the carriage.
However, a few minor problems hit me when walking past the aforementioned smoking Arabic men in that space between the carriages.
Hmmmm, it was nothing serious, nothing more than a few stares, but enough to feel intimidated enough to not go to the toilet alone.
Most of my journey was mostly uneventful, with very little interaction with other passengers.
At one point, I took a walk along the train. my carriage was at the front, I walked through at least 6 other first class carriages before I reached second class, which looked exactly like first class, with more people and the seats were closer together.
Stopping Along the Way
The trains stops at a lot of stations between Cairo and Luxor. At some stations, the train stops for 15-20 minutes, at which point a small boy got on the train. He has no shoes on and was Iaring worn out socks.
He held out a packet of tissues and put it into my hand.
It's common for children on the streets of Egypt to sell tissues, and busy trains and train stations are a prime place for them to do so.
He came straight for us, of course. The tourists. Of course it was impossible not to pity him or refuse his deal on tissues.
I handed him £25LE (£1/$1.30) for the small packet of pocket tissues.
Apparently this was too much. He quickly put another packet of tissues in my hand.
Apparently, I'd paid him enough for 2 packets, not one. I tried to give him back the second packet, but he wouldn't take them. This wasn't the first time I'd witnessed children selling tissues on the street in Egypt, and it wasn't the last. Tissues are always useful, I suppose it's easy for people to dismiss sellers of jewellery, trinkets or other useless junk, but children aren't stupid. They should, of course, be at home, or in school, or somewhere safe and not out on the street with no shoes on.
Visiting Egypt is a very conflicting experience. It's full of wonders and incredibly diverse sights, but there's injustice, poverty, and it's very difficult for people to leave the poverty cycle as the opportunities just aren't there. Tourism does help the economy for Egyptian businesses, but it's not enough to prop up public services in a country whose currency keeps dropping in value.
---
Arriving in Luxor by Train
I arrived and it was about 6:45pm, I followed the general flow of people and ended up outside the station, through the unmanned metal detectors that were persistently beeping. I'd actually arranged for someone from my accommodation to meet us outside the train station, but we were still inundated with offers of taxi journeys help with finding my way, and even someone claiming to be sent to meet us, after I'd already been met by the genuine employee of my hostel.
Luxor station is a very busy place, right in the heart of the bustling city. It's certainly not dangerous, and I'll talk about this more in future blog posts, but you do need to be aware and take precautions. Many hawkers, street vendors, and general people will probably approach you, they're very persistent and clever, but not aggressive.
Be prepared for endless offers of Calesh rides (horse-drawn carriages), invitations to see special merchandise at 'local' prices, and people asking your questions about where you're from. It's all very ill-mannered and Egyptians are incredibly friendly and hospitable, but you will almost definitely experience some form of hassle. The only thing you can do is accept it, do not be rude, shake your head and keep walking.
The phrase "La Shukran" can be used to tell people "No, Thank you", followed by "Kah Lass" which means "stop/enough" will usually give people the hint that you're not interested.
Please don't let this deter you from visiting Luxor, I plan to write more about this in future posts, but the hassle did not ruin my experience, I expected it and it actually wasn't as bad as I thought. In fact, I enjoyed the chance to speak to so many local people, even if they are trying to sell us something.
---
General Tips for Travelling in Egypt by Train
Buy your ticket in advance online using the Egyptian National Railways website (opens in a new tab). The page can be translated into English and accepts foreign credit cards. You have to create an account with your email address and password, which you can then use to login and view/print your tickets.
Have ymy ticket printed out in advance. Your hotel or hostel will be able to print it for you if you've bought it on the move. If they're available, get a first class ticket for added comfort. This particular journey (Cairo – Luxor – Aswan) is very long!
Arrive at the station early to find the correct platform. Don't leave it until the last minute!
Bring ymy own food and drink with you. Especially for longer journeys. There may not be food available on-board and it may not be very nice! What I had was fine, but the choice was very limited.
Arrange for someone from your accommodation to meet you at your destination station. Train stations are hotspots for aggressive taxi drivers and hawkers. During my extensive travels in Egypt, everyone of my accommodations offered to meet us upon arrival, whether it was by bus, train, or plane.
Be respectful of other passengers. Don't be loud, rowdy or behave inappropriately. Most of the other passengers will be Muslim families, so behave in a manner that's respectful, as you would when travelling anywhere else in the world.
Travel with other tourists if possible. I'm not saying that it wouldn't be safe to travel alone on the train in Egypt, but it may be less intimidating if you're with others.
Make yourself comfortable and enjoy the scenic Nile Delta and endless views of the Sahara Desert ?
---
Other ways to Travel from Cairo to Luxor
Besides the train, there are several other ways you get travel along this route.
By Bus
There are several bus companies that have a service between Cairo, Luxor and Aswan. I travelled on Go Bus (elsewhere in Egypt) which was also very good value and comfortable.
By Plane
You can fly between Cairo and Luxor, I believe EgyptAir and NileAir operate flights on this route. From what I understand, flights from the UK to Luxor are all cancelled and it's unclear when they'll be reinstated.
By Boat
There are so many cruise packages available between Cairo, Luxor and Aswan. This is a great way to travel slowly, and take in all of the beautiful sights along the way. I didn't actually go on a longer term Nile cruise, although I wish that I had!
---
Visiting Egypt Soon?
Egypt is one of the most wonderful countries to experience, it's been my favourite country so far in terms of what it has to offer. I'm really looking forward to creating more content about my time in Egypt.
If you enjoyed this guide, or have any other questions, you can leave a comment and I'll get back to you. I'd love to hear about my travels in Egypt too.