This article may contain affiliate links. This means that at no extra cost to you, I may earn a commission if you use one of these links to make a purchase. Read the full disclosure.
Have you been running virtual learning sessions from home? Or, are you about to start online workshops for your audience? This article contains advice and tips for trainers and presenters on how to run successful webinars, giving you confidence and your audience the best possible experience.
I've held quite a few virtual learning sessions lately, so I felt there's never been a better time than now to share my webinar tips with others. In the last couple of months, I've delivered online workshops on Pinterest management, SEO, Google Analytics, Google Tag Manager and even on how to use Microsoft Teams to run a webinar!
In this article you will learn:
How to prepare for your online learning session
Making the most of the technology that you already own to give your audience the best possible experience
Tips for creating webinar content, such as presentations and interactive activities
General tips for making your next webinar a success!
If you're not a trainer or presenter, but looking for advice on how to host a webinar, I recommended checking out Welsh ICE's article: 10 steps to hosting a successful online workshop
Here are my favourite webinar tips to make your next online workshop run as smoothly as possible…
Be free from external distractions
If you're working from home, make sure your family and housemates know that you're live and not to disturb you unless it's a real emergency.
Make sure your pets' bowls are full, your kids are supervised and content, and your partner knows to stay quiet!
Sit in a well-lit room
Natural lighting is best. However, don't sit with the window behind you! You will look like a silhouette and your webcam won't know where to focus and it will struggle to adjust for the light changing (such as if the sun goes behind a cloud).
Sitting facing a window is a good bet. Just remember that on a sunny day, this could mean you have extra shadows to deal with. Fortunately, most webinars only require you to have your camera in 'full screen view' right at the beginning and you'll be a thumbnail for the rest of the session.
It's still nice to know that your audience can see you properly!
If your workspace lacks good light, invest in a small USB ring light from Amazon.
Check your surroundings
Basically just tidy your room up, ok? People make subconscious judgements without realising and you don't want to give a negative impression.
It's OK to have a coffee cup or a notepad on your desk, but keep the piles of unruly paperwork or sweet wrappers out of view!
Some people go as far as to dress their webinar area with a nice house plant and piece of artwork. A neatly arranged bookcase is a popular choice of background.
If you want to give a little bit more away about your personality in your webinars, you may want to think about this in more detail.
Or, you could just make use of the digital green screens built into Zoom Microsoft Teams etc to hide your background completely.
I even know someone who presents in front of a green screen containing a photograph of their own tidy living room! That's not necessary, unless you want all your webinar content to have a consistent backdrop.
Check yourself (before you wreck yourself)
This doesn't mean that you have to dress in formal business attire or spend hours getting ready, but if it makes you feel better and more confident – do it!
There's a cliché about people who work from home wearing pyjamas at their desk or working from their laptops in bed, so you should dress as if you were running a face-to-face training session.
Wearing a simple, plain top and tidying your hair is often enough. If it's a fitness class or something more practical, then obviously wear whatever is appropriate!
Or, wear make-up and style your hair, but only if you want to or if that's something that you do anyway.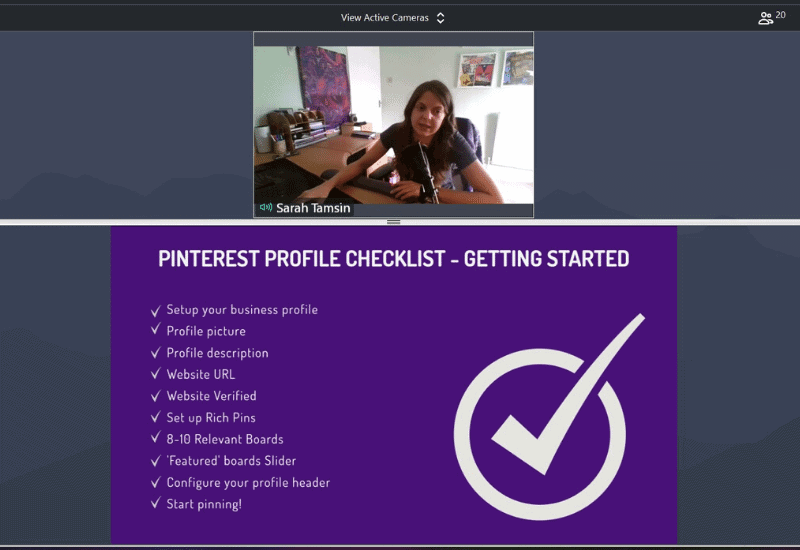 Turn your desktop notifications off
If your web browser or email client gives you pop-up notifications in the corner of your desktop, it's best to turn these off so they don't distract you. Also, your viewers may be able to see private or confidential information in your notifications while your screen is being shared!
It's like someone peeping at your phone's lock screen and catching a snippet of the message. Ooops.
Common desktop notifications you may have enabled are:
Outlook
WhatsApp Web
Facebook
Slack
Microsoft Teams
Skype Messaging
There's usually an option to mute notifications, rather than turn them off completely.
Switch your phone onto silent
The same goes for your phone, keep it on silent and turn off the vibrate function too as it may buzz when you're presenting, which could be distracting, annoying or both.
Consider your listeners, use a proper microphone!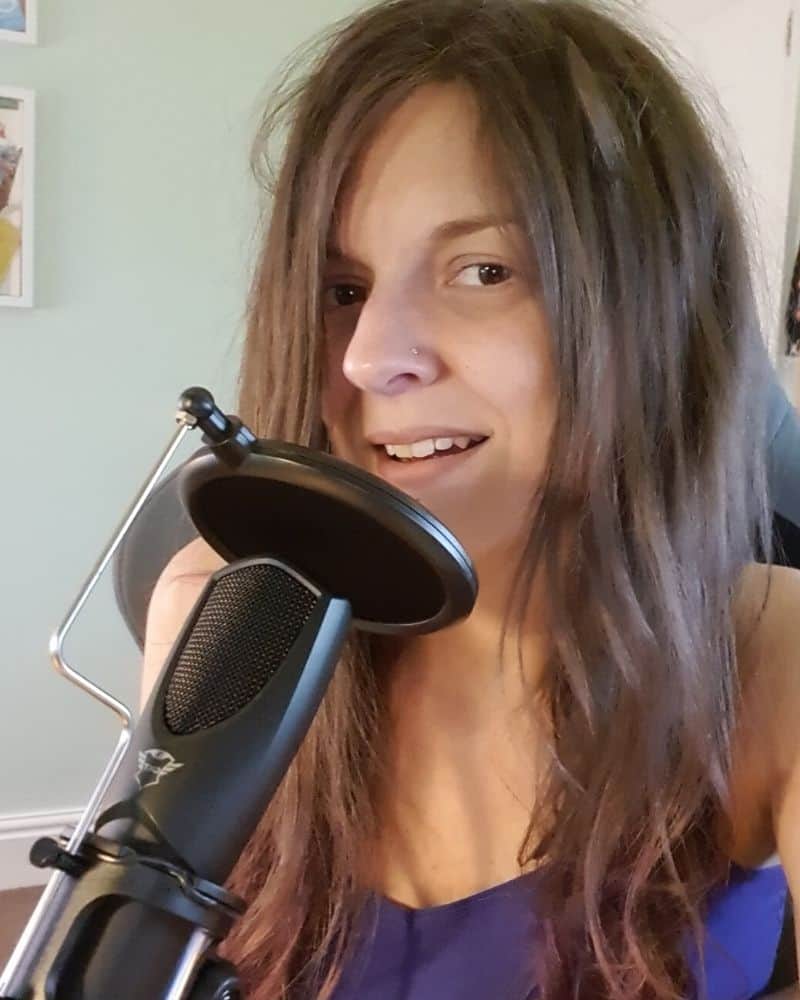 People can deal with bad video, and they will be looking at your content rather than your face, but making people sit through an hour of bad audio? No way. That's not very nice at all, especially for the headphone folk.
Buy a USB microphone. Seriously. You can get one for around £15 and if you're hosting a webinar with a large audience, it's worth it to give the audience the best possible experience,
I've got this TONOR PC microphone from Amazon which is perfect for my webinars. I talk about Pinterest, search engines and SEO, this microphone comes with a POP filter to soften the harsh 'P' and 'S' sounds!
People will definitely be able to learn and digest what you're saying a lot more if the audio quality is good.
Use wired internet if possible
If you're ever on a webinar or video call, and there's 3-4 seconds of robotic voice accompanied by a pixellated face then it suddenly returns to normal, that's usually related to someone's Wi-Fi connection.
As the presenter, it's an extremely good idea to be wired and not wireless. Not only is it far far far less likely the connection will drop if you're wired, but your viewers will get a much better experience too.
It would be very embarrassing if your WiFi was unsustainable as the presenter – don't be that "it doesn't reach to my dining room" person!
However, most people have basic home broadband using the default equipment given to them by their Internet Service Provider.
Upgrading your home Wi-Fi on a limited budget
Honestly, upgrading both my home Wi-Fi and wired internet was the best thing I ever did, every room now has a cabled connection point and there's mesh wireless access points on each of the 3 floors of my house, with a repeater in the garden. I know it's not possible for everyone to spend hundreds and make holes in their walls to do what I've done.
However, there is a very affordable go-between that doesn't involve spending too much money and definitely doesn't involve making holes in the wall.
Powerline adapters use the existing electrical wiring already in your walls, you simply connect one to your main wireless router, then plug the others into wall sockets around the house. You should plug them into places that you regularly work from, such as a home office, or in places where you have Wi-Fi blackspots at home.
They're not the same as Wi-Fi extenders, which don't work nearly as well. I have an old house with thick walls, which certainly wasn't built with Wi-Fi in mind!
I recommend these budget TP-Link PowerLine adapters, I used these for years before I upgraded my home networking equipment to a mesh system!
It's worth having the extra peace of mind that your internet won't drop out in the middle of your session.
Related Post: How to Overcome Problems with your Hotel Room's Wi-Fi
Record the webinar, even if it's just for your own use
Having a recording of your session is extremely useful to use to review your own performance, or refer back to in the future to improve your training sessions.
If the webinar is interactive, for example people asking questions in a chat box, make sure you read the questions out fully so the recording makes sense and questions are answered contextually. Otherwise the recording will have you saying "Yes, Bob. That's correct." – for someone catching up at a later date, they'll be thinking "What's correct? I need to know!"
Do a test run if you can
Test that your webinar software is working before the event. Whether you're using Zoom, GoToWebinar, Microsoft Teams, or something else, test it with someone else beforehand.
Have a checklist of what to check, for example:
Sound working?
Camera working?
Screen-sharing working?
Chat box working?
How does my hair look?!
Prepare your content in advance
All the technical stuff aside, the content is of course the most important element of your webinar. The technical stuff just provides you a solid foundation to produce and deliver excellent content!
Just like any training session, the trainer needs to prepare their content in advance and webinars are no exception.
Preparing content in advance of a webinar means:
Writing a detailed session plan
Designing your slides
Populating your slides with high quality information
Adding suitable graphics, screenshots and practical examples to complement your explanations
Ensuring that you stick to timings
Checking that all the learning outcomes are covered
Tips for creating Webinar Presentations
Here's some general advice to follow when creating content for your next webinar or virtual learning session:
1. Stick to one message or point per slide
This is a good rule to stick to in all your presentations, even if means you end up with more slides than you originally planned. During a webinar, to keep people focused on the point you're discussing, don't overcrowd your on-screen content will too many distractions.
If in doubt, keep it simple. Some of your audience may be attending on their phone, so don't try to squeeze too much onto each slide.
2. Display bullet points incrementally, instead of all at once
This may be a stylistic choice for your physical presentations, but during a webinar, it works a lot better. For maximum impact, allow your audience to focus on one single area of the slide. Set your presentation up to display individual bullet points on-click, just don't go overboard with the animations 😉
3. Don't play videos and expect the audience to see and hear it as you do
If your webinar content includes a video, then you need to be aware that the audio will not be played through the audience's speakers. Instead, your microphone will record the audio coming from your speakers. That means your audience are essentially listening to a recording of a recording! Imagine holding your microphone up to your radio, showing a video during a webinar is the same thing…
Also, if you're sharing your screen, the recipient's device may not show the video with a high enough frame-rate, making it jumpy, blocky and generally difficult to watch.
I generally tend to avoid including playable videos in webinars, if there's a video I really want people to watch that badly then I'd share a link to YouTube instead.
4. Allow time for interaction
Make sure you factor in time for questions and interaction with the audience. Whether that's Q&A, collaborative problem solving or sharing practical examples.
That makes the session more of a webinar, rather than a one-sided talk.
5. Share your slides afterwards
It's highly useful if the presenter makes the slides available as soon as possible after the session is over, otherwise people will be frantically taking notes or even photographs of their screen!
I've started sharing a link to the PDF slides in the final 10 minutes of every webinar I run, so people can access the content and start putting what they've learned into practice straight away.
---
So, that's it! Those are my favourite tips and tricks for hosting online workshops, virtual learning sessions and webinars.
Webinar Tips – Summary
In summary, before running an online workshop you should:
Prepare your workspace
Test your equipment and technology
Carefully prepare your presentation for the medium you'll be presenting it in
Put your audience first
Be interactive and have fun!